As an avid reader and book enthusiast, I adore most things book-related. Therefore, when Olympia Le-Tan released her book clutches, combining books and fashion, I found myself in a full-blown love affair. The appropriately titled
Don't Judge a Book by it's Cover
collection ranges from Shakespeare and The Classics to modern mysteries and clever cookbooks. OLT's handmade clutches, which are limited to sixteen per title, are being described as "intellectual and intricate accessories." The best part, however, is that you don't have to be a bookworm to appreciate the quirky designs and creative covers!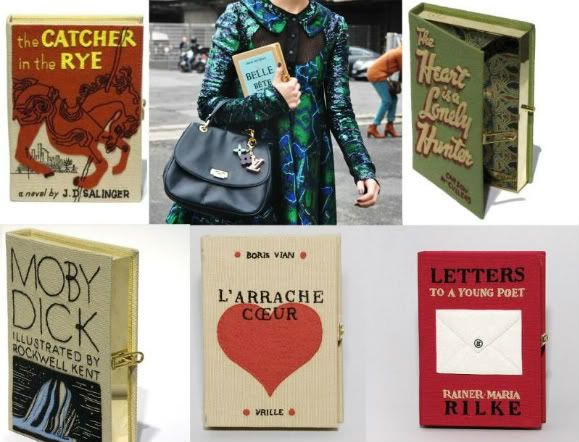 Olympia Le-Tan elaborated on her collection during Paris Fashion Week, explaining that "there were all these beautiful books around and they were being forgotten with everybody on the Internet, so I made it so that you can carry them around." The clutches, which are characterized by "Liberty print lining, felt appliqué and silk thread for the embroideries, and colorful canvas for the base," quickly found their way into the street fashion scene.
Hotel Olt
by Olympia Le-Tan photographed on the streets of NY
Dracula
by Olympia Le-Tan spotted at Lollapalooza 2011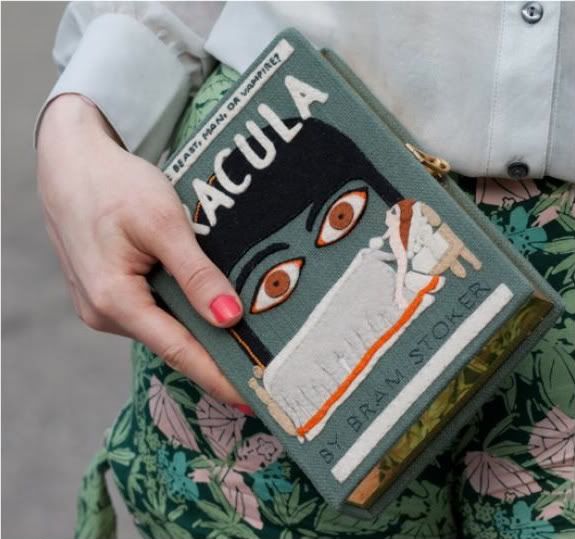 Lolita
by Olympia Le-Tan in a "Models Off Duty" moment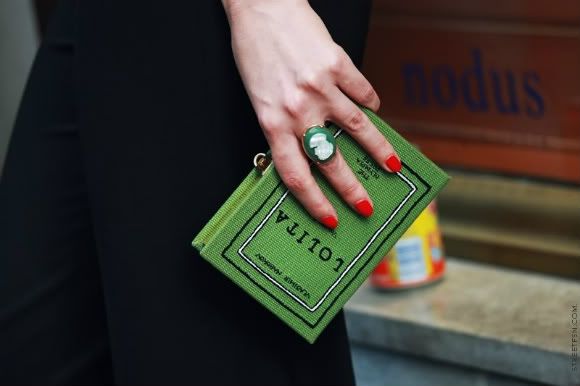 Even Hollywood's starlets seem to have fallen in love with the incredible clutches:
Natalie Portman's Olympia Le-Tan
Lolita
.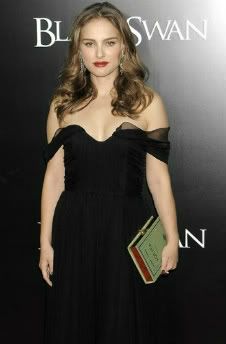 Clemence Poesy's OLT
La Belle et la Bête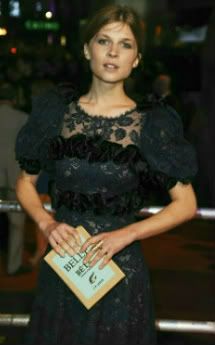 A few other well-known brands that have introduced The Book Clutch into their collections include:
Kate Spade
and
Chanel
. Though each designer adds a unique twist to their clutches, Olympia Le-Tan has by far the largest collection. Additional Olympia Le-Tan book clutch titles include:
Nineteen Eighty-Four
,
Cooking for Two
,
Madame Bovary
, and
The Glass Menagerie
among others. To view the full selection visit their website/ online store
here
. Below is a photo containing both Kate Spade and Olympia Le-Tan designs.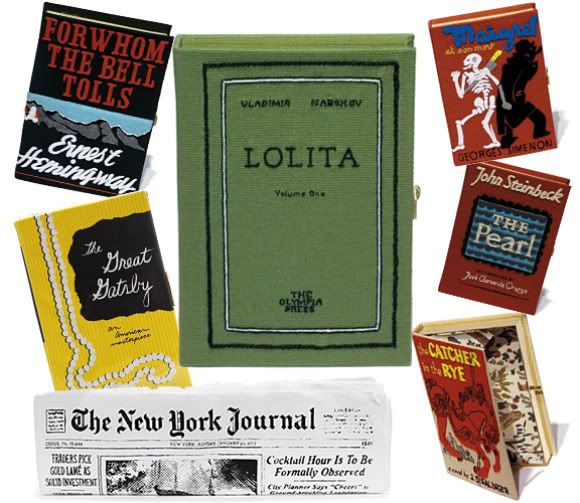 Clockwise from center:
Lolita
(OLT),
Maigret et son Mort
(OLT),
The Pearl
(OLT),
The Catcher in the Rye
(OLT),
The New York Journal
clutch (KS),
The Great Gatsby
(KS),
For Whom the Bell Tolls
(OLT).
SPECIAL ANNOUNCEMENT:
The Modern Flâneuse will have its' first guest author sometime over the next couple weeks! JMRZ will be doing a Fall-inspired piece that I'm very excited to share with you! If you would like to take a peek at her profile in the meantime, here's the
link
. JMRZ has three blogs including:
Pensive and Musing
,
Novel Travels
, and
Across the Pond Journeys
. Keep checking back for more updates!*
*If you are interested writing an article for and/or collaborating with The Modern Flâneuse, please contact me at themodernflaneuse@yahoo.com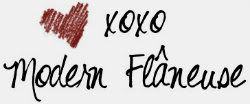 TWITTER
•
BLOGLOVIN'
•
PINTEREST